Jimmy Dalton, brother of Frank, is also a Foundation Member of the Mates of the Murranji. This is his history and experiences in Murranji Country - the area from the VRD, Top Springs, Wave Hill (Kalkarindji), the Murranji Track and Newcastle Waters (the 'Ridge').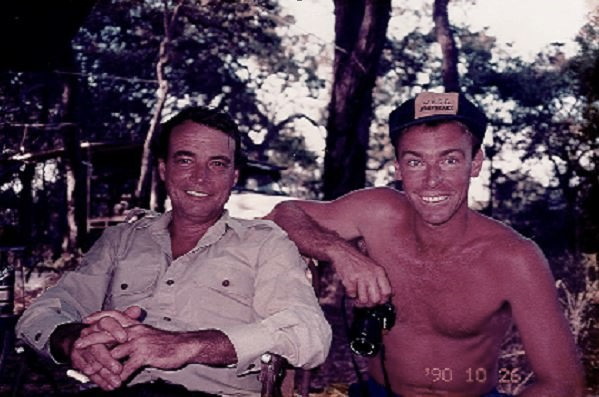 I first arrived in Hooker Creek as a pimply faced 16 year old school boy, circa 1978. I had come up from Melbourne on school holidays to visit Brother Frank and his fiancé, Lorraine. They were running the store at the time and had offered me a bit of pocket money to come and work for them. What an eye opener it was.
The adventure began with the drive in Franks Ford Ute from Darwin Airport to Top Springs. We left Darwin just before dusk and I remember seeing full blood Aboriginal men for the first time; out near the Coomalie Airstrip. I recall being surprised and Frank looking at me only to say, "Bloody Tourist!".
The Stuart Highway was single lane for the most part. Whenever a road train was coming our way, Frank peeled off to the side only to be showered by flying rocks and debris anyway. We did the obligatory pub crawl stopping at most Pubs down the track before refuelling at Katherine and heading into, for me, the great unknown.
We drove through the night and pulled up at Top Springs and camped the night before pushing on to Wave Hill where I first met Lorraine and her family including Mum, Sheilagh Savage and step Dad Brian Lines. On to Hooker Creek.
Riding dirt bikes through dried up creek beds, running around the Hooker Creek race track, which was just past the meat shed and an old cattle loading ramp. Watching movies in the 'walk in' (no car required), witnessing tribal spear fights in the main street, kicking the footy with a couple of the local lads, shooting bush turkey with Sheilagh, fishing in the various desert waterholes and meeting the vast array of wonderfully friendly locals.
I recall seeing my first camp oven; "How can you call that an oven?" I remember saying to Frank. (an oven in Melbourne was a big white thing with gas and burners). Not only was I mesmerised by the sheer vastness of the land, but I genuinely fell in love with the idea of being so remote. A true sense of adventure far flung from all my mates and family in Victoria.
As years went by, back in Melbourne, I completed my Cooking Apprenticeship and drove my old HQ Holden Station Wagon up through the centre to arrive just in time for Frank and Lorraine's wedding. That was September 1983 and I've been here since.
My first job was cooking in a fencing camp out at Mountain Springs off the Hooker Creek road (as coincidence would have it) I had gone from a commercial kitchen in the heart of the city of Melbourne, to a mozzie netted gazebo with a gas stove and a kerosene fridge! A fridge that gets cold from lighting a kero wicked light? Yeah righto! Frank's put you blokes up to this hasn't he?
The work flowed if you were prepared to have a go at anything. Frank and I did a fair bit of work together over the years from cattle fencing, roof plumbing, concreting, road works anything that was going. Anything but cooking! But that was about to change.
In the late eighties, we met an Army Captain by the name of Les Hiddins that was out our way researching Bush Foods for the Australian Army. In 1990, he was looking for a camp boss to run the ABC production crew camps for The Bush Tucker Man series. My name came up and I was hired.
This association with Les would last another decade or more; providing camps and catering for film crews, off road vehicle launches, event management and the like. The remote regions of outback Australia kept coming. Cape York, The Kimberley's and of course, our old stomping grounds around Wave Hill, Timber Creek and Old Toppy.
Now on reflection, I can honestly say, I have a connection to this land. Sheilagh often said to me of the Montejinni and Wave Hill area, "that's your land Jimmy. You came here as a young fella, and you're still here".
I feel very privileged to be a part of The Mates of the Murranji. I look forward to contributing to the next Murranji Newsletter with some ideas of establishing historic camps and road side stops for what we all hope will be a burgeoning tourism economy in the coming years. I believe as a collective we can create a new tourism route with interesting anecdotes and stories of our ancestors.