Roger Steele AM worked across Northern Australia for 17 years (from 1952-1969) droving and cattle stations. He writes about his droving days here.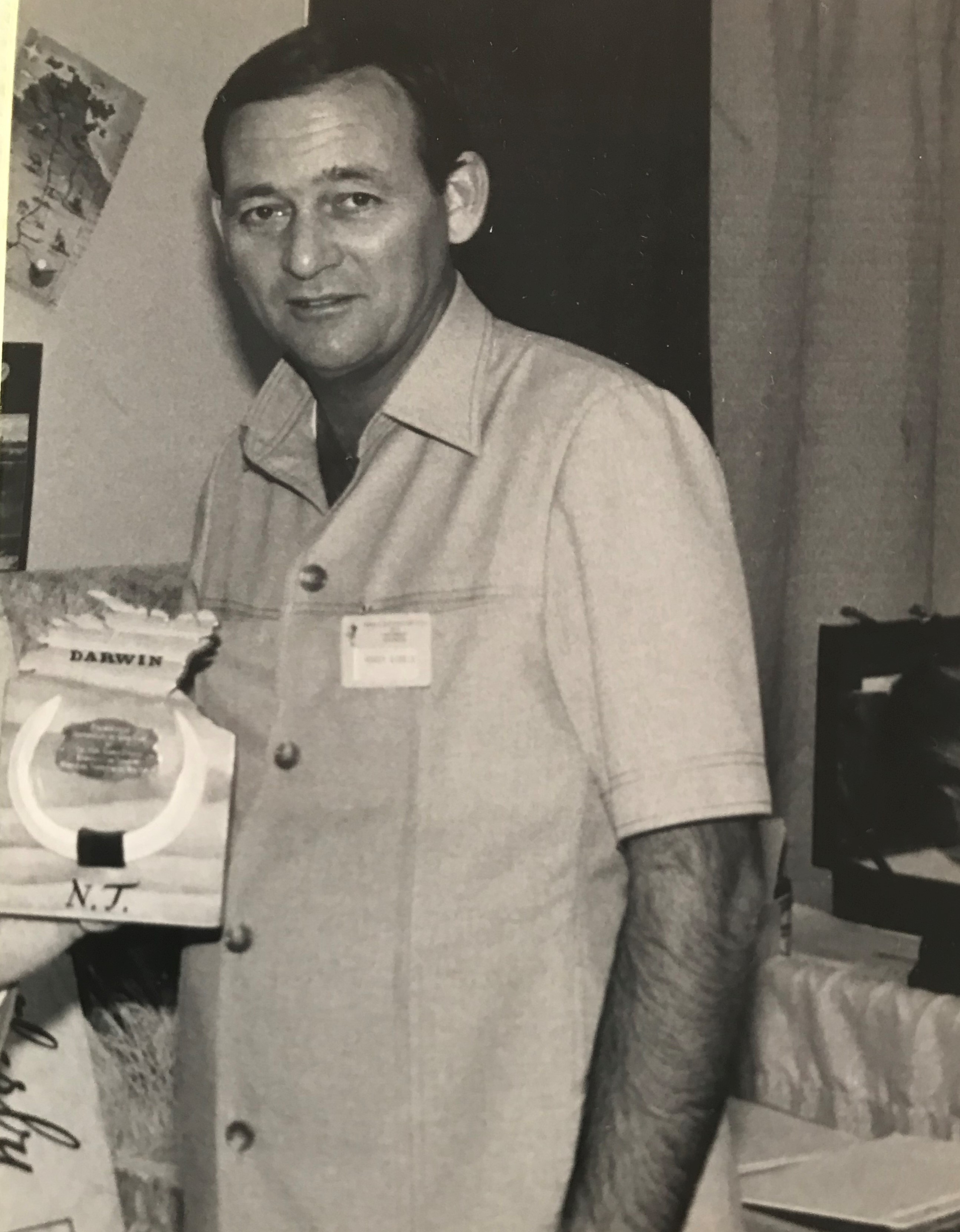 I acknowledge the men and women of the Outback, the workers, including the Aboriginal stockmen and the outback women; they all worked and lived in difficult and isolated circumstances.
When I look back, I can't believe I did the things that I am about to tell you. I imagine, or perhaps dream about my earlier life because it's so far removed from life as it is today, or even my life during the past 35 to 40 years. Did my stories come from a dream? An Outback Dream perhaps…
Droving cattle or sheep has been a practice for centuries. Although most students of today would be unfamiliar with the word and the practice.
My story covers my own droving experiences across Northern Australia, from when I commenced working cattle in 1952 until I finished working as a cattleman in 1969. It was 17 years of hot, dry, dusty cattle movements working, quite often, with the Aboriginal pastoral workers in remote areas of Australia's northern outback.
I worked cattle on many stations including Humbert River, Waterloo, Limbunya and Legune in the Territory, Ellendale in Western Australia and Morestone and Cooloolah Station in Queensland. My first station experience was in July 1952. Six weeks after I turned 13, I was sent to Humbert River Station by the well known Territory policeman Greg Ryall. (In fact, a book on Greg Ryall's life has just been published and it's a great read). He become famous for headlocking an armed Russian KGB officer during the 1954 Petrov affair at Darwin Airport.
To find a home for me, Greg wrote to a number of cattlemen, including Burke Cant at Anthony's Lagoon Station, and Eric Nicholson at Helen Springs. Both were considered unsuitable due to my age as they had reputations of being prone to indulging themselves with Aboriginal women. Eventually Greg secured a position for me at Humbert River with the legendary cattleman Charlie Schultz and his wife, Hessie. My father and stepmother outfitted me with black buckle-up riding boots (which didn't fit and nearly crippled me), a big hat and a swag, and not much else. I caught a bus from Darwin to Katherine and the next flew to Victoria River Downs on the Connellans Dragon Rapide Aircraft. So together with four Aboriginal kids (Les Humbert, Rosie Gordon, Roy Harrington and Larry Johns), I was fostered by the Schultz family, in the wild outback Victoria River Country.
In my day the gun Aboriginal stockmen at Humbert were Snowy, Daly, Riley, Billy, Toby, Bigfoot, Sammy, Larry Johns, Roy Harrington and my lifelong friend Leslie Humbert - they all took me under their wing and taught me the cattle game.
In 1952 the Victoria River Downs region was in a raging drought so cattle weren't branded and no cattle were being sent to the meat works.
The only market outlet in that era was to send cattle to Wyndham meat works which was built in about 1904. Here, the carcases were graded then shipped to the Smithfield market in London. Later, wild bulls were slaughtered and shipped from Wyndham and other Northern meat works to the US for hamburger meat.
In 1953, my first droving trip was with the owner of Humbert River Station, Charlie Schultz and other Aboriginal stockmen, and we took cattle to the Wyndham meat works in Western Australia.
On that trip we were joined by Mrs Muriel Garner and Ms Venus D Milo Quick (both riding horses; it was interesting to have two women on the trip). Dr Darrell Lewis, the author, has the Venus diaries, documenting her experiences.

During the droving trip, one of my jobs as the kid, was to cut grass to form a mattress under the swags for the ladies for their night camp. So the cattle moved from the bullock paddock at Humbert River then to Bullita Station. This area is now part of the Judbarra/Gregory National Park.
In mid 1980 I met with Reg and Enid Durack and advised them that Bullita Station was to be part of a great new outback National Park. As a Minister of the NT Government I was successful in convincing Cabinet to support my vision and I am proud to be the founder of the Gregory National Park which I named after the explorer, Augustus Charles Gregory.
From Bullita station, we moved along the East Baines river, past Spring Creek and Limestone Creek, then Barac Barac Junction and through the 11 miles long, very stony Baines Gorge.
Continuing out on to Auvergne station on the 1954 droving trip I was the cook and, at Snake Creek, we were met by Reg and Enid Durack the owners of Kildurk Station. Mrs Durack brought biscuits. I've never forgotten her act of kindness.
I was cooking bread at dinner camp that day. I carried the dough on a packhorse from the last camp. I cooked the bread in the camp oven from the coals created by the dinner campfire.
This was a four week droving trip to get to Wyndham which was repeated in 1954 and 1955.
In 1955, I was recovering from a broken arm following a horse fall at Humbert River station. Unfortunately, I suffered a second broken arm after my stockhorse fell with me at the 12 Mile Plain out from Wyndham. I was flown to the Old Darwin Hospital at Larrakeyah.
One of my claims to association with the old Hospital Site is two broken arms mended in 1955, a daughter born there in August 1968 and my brother Dr Ted Steele was born there in October 1948.
Most of our station cattle work was with pack horses and taking coacher cattle with us to muster the cattle.
I departed Humbert River station in 1955 at age 16 and found a job with the Beebe Brothers at Ucharonidge Station, 60 miles east of Elliott, NT.
It was great experience for me to work with the Beebes with earth moving creating earth tanks at Austral Downs and Newcastle Waters Station, but the Beebes paid staff off towards the end of the year and I was dropped into Elliott. The local policeman Gordon Stott, who thought I was a bad guy said "I don't want you in my town" so get moving.
Keith Henderson, the local bore man for the government said, "Roger, the drover Harry Barnes needs men". So, with a newfound friend, stockman Bill Cussens, Keith delivered the two of us to Mittiebah Station on the Barkly Tableland stock route.
Later, I realised that joining Harry Barnes was the greatest punishment that I could have received.
I was the kid, at 16 years of age, but I carried enormous responsibility. Our drover was in charge of 1100 cows from Helen Springs, a station that was in drought.
The cows were in poor condition; many were calving and we were in a packhorse camp, so unable to collect the calves, we had to slaughter them. I dream about this from time to time as it was a very brutal activity, especially for a young person to be involved in.
The men on that trip were Johnny Liddy, Wilton Huddleston, Bill Cussens, Harry Barnes and me.
An Aboriginal bloke, Alex Peppin had arrived from Alice Springs, straight out of jail, where he was recently released. They said that he had killed an Aboriginal women and threw her in the Todd River.
We set up night camp, opposite Alexandria Station in the branch of a major creek. Light rain started to fall but Peppin and I kept the cows together. There were a few untidy occasions when someone supplied alcohol to the boss drover, Harry Barnes.
The droving team limped along in the dry unforgiving drought conditions; eventually we took the cattle to a dry camp on the Rocklands boundary fence in the Camooweal common.
Unfortunately for me, the men also went to town to the pub and I was left alone holding the cows along the Rocklands Station boundary fence. I was annoyed and distressed as the cows could smell the water in the Georgina River. And they (1100 of them) tried to walk out.
Eventually Bill Cussens returned from the Camooweal pub to do his night watch. He got off his horse, full of booze, he laid down to snooze on the ground.
I could hear the cows moving down the Rocklands fence and I jumped up from my swag and onto the other night horse and quickly put them back on camp.
I cracked my whip over Bill Cussens head and he groggily got back on his horse to resume his night watch. I went back to my swag.
The next morning, the cows were all over the Camooweal common. And I quit that droving trip.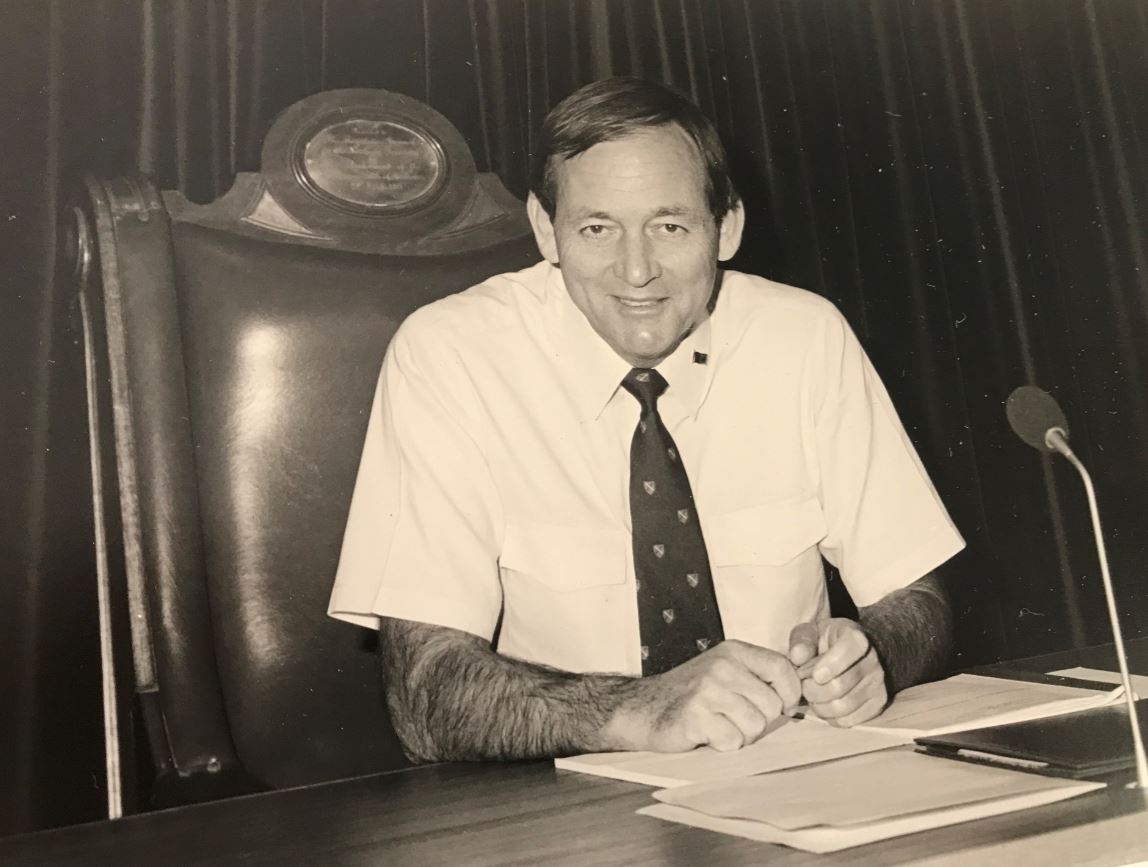 I was then offered a jackaroo position on Morstone Station, owned by Lord Vestey. I worked at Morstone four times - mostly between droving trips.
Early in 1956, before I turned 17, I accepted an offer from the exceptional boss drover - Pic Willetts. Willetts was camped down on the Georgina River.
His plant was ready to head west. The local policeman, Ron Rook, was chasing me to arrest me for driving a truck without a licence. "Rookie" as he was called, rode down to our stock camp but an hour earlier, we'd left Queensland heading west through the state border into the Northern Territory.
This was a six week trip with the horse plant through the Barkly and Murranji stock routes, then from Top Springs to Wave Hill to take delivery of 1350 Lord Vestey bullocks, to go east to Djarra in Queensland. The horses were ready and the men were ready. At Wave Hill, we camped at No. 1 bore, now the site of the Wave Hill homestead.
George Man Fong was the head stockman in charge of the delivery of the bullocks to Drover Willetts and we had a couple of days breaking in the cattle getting ready to push east on our 16 week journey to Dajarra, the railhead in Western outback Queensland.
The veteran drover Willetts, dived into the lead of the bullocks cracking his whip in the ears of the lead animals. This practice enabled us to break in and manage the animals on the road.
Later the drover would move out from the tail of the mob, crack his whip and all of the animals would move as requested. Night watch was around two hours with the horsetailer taking the first watch.
Down through Camfield station, then past Montejennie Station and the dip at Top Springs. Now the dreaded Murranji track is looming…..a scrubby and dark stock route ahead…..
The experienced drover knows the country and holds the bullocks back, to fill them up with grass. The ironwood leaves ahead are deadly poisonous and our job was to move the mob up the jumpup in to the red country. No time to graze, just keep the bullocks moving to the first watering point; 1350 bullocks takes some managing.
The drover cuts off the lead of the bullocks – say 200 head then another cut, then gradually all of the bullocks are watered and held on water, with dangerous bulwaddy and lancewood scrub around us.
The stockmen ever vigilant to push in the stragglers. The drover goes about four miles, grazing the bullocks then to night camp. Watches were set at 6.30pm sunset, first watch - me as horse tailer from 7pm–9pm. Then into my swag
Singing as loud as I could, scared that some foreign noise would alarm the cattle and cause them to rush, riding round and round, then calling the next stockman on watch. At 17 I was the horse tailer, woken by the boss drover at 5am to ride off into the night, find the horses, unhobble them and bring them into camp, put a log on the camp fire before riding off to the direction of the bells, with the campfire always at my back…… scared about the unknown.
Every horse was known by silhouette and shape. 47 horses in total - a big job for a 17 year old horse tailer. Eventually we got through the Murranji unscathed, the bush craft and outback knowledge keeping us safe.
Droving - an outback trade that finished in 1988, when the bi-centennial drover Pic Willetts took the last mob to the saleyards in Longreach.
Back to 1956 - our 16 weeks now took us to Dajarra in Queensland. We delivered 1371 bullocks, having collected some bullocks lost by other drovers - an extra train carriage and a bonus for the drover.
Later in October 1956, we were given a mob of 1100 drought cows from further in Queensland, to take from Dajarra rail head to Soudan, an outstation of the massive Alexandria Station in the NT. It was getting very hot and the cows were sulky.
When we took delivery of the cattle off the train, we were a team of six. A cook, horse tailer, boss drover and three men. The first day we lost a local man - he departed and said that he needed to go back to town to check up on his wife, who he said was "playing up".
Then, within a day Pic Willets, the boss drover, fought with others and two men walked off. We had to quickly convert from a truck to a packhorse team of 30 horses and now three of us– with packs. These cows were difficult to move, they would barely move with a tail wind and then kept veering to the windy side, plus some were calving and running back to find calves that been left. We were approaching Headingly Station on the Georgina River, when our German horse tailer, Wally went bush.
Pic and I went on watch, a half night each then the next night, we were given a paddock to hold the mob while the boss drover tracked down the horse tailer some 20 miles away.
Now we were only a day from delivering the cows to Bob Napier at Soudan. It was the last night watch and, with a moon and a light breeze, I got off the night horse and laid on the ground for a rest. I woke up some time before dawn and, with the light cool breeze, the cows had moved off camp and were grazing all over the place - quietly feeding. I woke Pic Willetts and we nudged the cows together and delivered a full count to Bob Napier that day.
In 1957, I had a stint working as a stockman at Morestone Station, the Vestey Bullock station, North of Camooweal.
Then, I teamed up with Pic Willetts again, and we set off with plant horses to go west out through the Murrangi again, to collect bullocks from Limbunya Station, down through Wattie Creek, now Kalkaringi, past Gill Creek and the interesting land formation to Number 18 bore at Limbunya.
Ray Jansen, the manager, delivered 1350 bullocks to our team. Reg Hillier, my school mate (who was killed in Vietnam) from outer Darwin was a stockman there and Ray Jansen offered me a job at 10 pounds, 11 shillings and 2 pence per week.
Pic Willetts wasn't happy that I would leave but when we got the Limbunya bullocks to number 8 bore, at Elliott, and through the dip, with stock inspector Cliff Rideout, I returned to Limbunya. Unfortunately, Reg Hillier had moved on to work at Nicholson station but I stayed until the end of 1958 when I returned to Camooweal in Queensland
In May 1959, the drover Alan Simpson and I left Camooweal with a droving plant of around 25 horses including pack horses. Our mission was to accept delivery of 600 XTX Banka Banka cows from Yelvertoft Station to the train in Mount Isa.
We accepted the cows just the two of us - from the manager, well known cattleman, Les Teece. We were waiting for a stockman to arrive to assist.
As we took the delivery, the cyclonic rain arrived from the Gulf of Carpentaria. I was 19, very experienced, and absolutely fearless. Now I was cook and horse tailer.
The rain came down, we had taken delivery and we were on our own, wet and unable to get dry for five days.
We shifted the cows around in the rain, searching for higher ground. As cook, I had to keep a camp fire going which I did by carrying a bucket of coals, on horseback, from camp to camp, then erecting a fly and chopping wood and fanning the fire to create a camp and hot food. To imagine doing this today - it seems like a dream – and a bad one at that.
Dave Schofield arrived midway and helped the drover with the cattle. On the 6th day, we marched off down the stock route to get the cows on the train. Alan Simpson paid me well for that trip.
One of the most amazing droving trips - and I just can't recall the year - was the droving trip from Avon Downs to the railhead in Mt Isa with Pic Willetts, the boss drover. Small stunted steers, some from the west, places like Auvergne and Newry Station, cheeky and unsettled. We left Avon Downs with this mob, heading east past Camooweal into the red drummy country.
Our cook was Harry Huddleston, formerly from Wave Hill. A top gun in his time but now he was old and cranky.
I was horse tailer and we camped between Nowrarnie Creek and Split Rock, heading towards Yelvertoft Station, on the Mt Isa Road.
The young bullocks were very tight, hard to settle down, young and restless. We camped on drummy limestone ground and the cattle could hear noises beneath the land.
Something was bound to happen - and it did. For no known reason, the young steers rushed. I think the horse plant startled them. I jumped out of my swag, without a shirt and without boots and running to the night horses to try and get to the lead of the cattle - it was as dark as the inside of the Bullita caves.
Hurtling along I felt I was close to the lead then - bang, twang - a handful of these steers were first to hit the barbed wire fence. I was very close and my horse reacted. We swerved to the left and my bare right foot caught the middle of the barbed wire as we propped and then dived to the left.
We settled the cattle down, but our horses had rushed, so at Piccaninny Daylight I took off to start tracking the runaway horses. I stayed out as the boss drover took the cattle along the stock route heading east.
I stayed chasing horse tracks for nearly two days and returned to Yelvertoft retrieving all but two horses. It was a harrowing outback experience. How I found my way back in the remote scrubby outback, I don't know. And I'd had no food during that time.
Being a cattleman drover gave me considerable leverage as a stockman. Station jobs were plentiful and it was an important part of my personal progress. I worked in an environment when the Australian Aboriginal pastoral workers were at their peak of involvement and of high value in the cattle industry. Another aspect of life, that seems like a dream.
On reflection, the cattle game and droving the big mobs was the highlight of my life in the great Australian outback….